The Auckland Racing Club, as we know it today, came into existence on January 9, 1874, when members of two existing clubs - the Auckland Jockey Club and Auckland Turf Club, amalgamated.
Racing in Auckland had begun some 32 years beforehand on Epsom Racecourse, or "Epsom Downs" as it was known, which was on a site about three miles from the city. The first meeting on this site took place on January 5, 1842, and the card consisted of two events - the Auckland Town Plate and Valparaiso Stakes Handicap.
After these modest beginnings, racing became an annual event and by 1849, racing was well established. The Auckland Jockey Club was formed in 1853 and ten years later, the committee of the club adopted a comprehensive set of rules and regulations governing racing.
In 1893, the Auckland Turf Club was introduced as a rival to the Jockey Club. However, the Turf Club raced on just two occasions, December 26 and 27 of that year, before joining with the Jockey Club to form the inaugural Auckland Racing Club. The first two days, racing under the auspices of the ARC were held on May 25 and 26 1874 at Ellerslie where horses had raced since 1857. May 25 was observed as a public holiday to celebrate Queen Victoria's birthday.
From these modest beginnings developed one of the finest racecourses in the world - a serious rival for the best that Great Britain, Ireland, France, America, South Africa and Australia could produce. As with all great courses, racing at Ellerslie is of a consistently high standard and any number of great gallopers have graced the Ellerslie turf since racing's inception there all those years ago.
Ellerslie Gardens in 1905
The original stand and the Derby stand. 1874.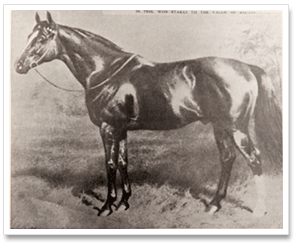 Carbine - in his day the greatest racehorse.